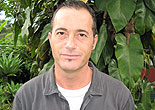 valentin corral




General Manager, CRE Lodges


vcorral@expeditions.co.cr
Chef Valentin is from Valencia, Spain, and came to Costa Rica Expeditions in 2005 with nearly 20 years cooking experience in his native country and France. His talent in the kitchen, however, doesn't stop at the dining room door. In the last couple of years he has revolutionized the menus at all three of our lodges, managed inventory and staff, streamlined the supply chain, and made other general improvements – outside the kitchen - at each of our lodges.

Valentin's efforts led us to promote him to General Manager of our lodges in early 2007. For someone who has been dedicated to haute cuisine and the study of enology (wine making), hotel management has proven to be a challenge, but one worth undertaking, according to him. "New challenges are exciting," he says. "Essentially I'm a creative person who enjoys experimenting and trying new directions. Life isn't static and since arriving in this beautiful country I haven't stopped growing, learning and being creative in and out of the kitchen."

Before pursuing a career as chef, Valentin worked in the ready-to-wear fashion industry for Cristian Lacroix Paris. He speaks English, Spanish, French, Italian and a bit of Japanese, and loves the opera and art films. Valentin, born on March 30, 1964, is single.



TESTIMONIALS:



Aug 3, 2009.- "Everything you worked into our itinerary far exceeded our expectations."
LUIS!!! I'm so glad that you e-mailed! I would like to tell you how awesome you and EVERYONE who we came in contact with was. Everything you worked into our itinerary far exceeded our expectations. I think it's great that even though we couldn't fit into the Costa Rica Expeditions' white water rafting schedule, you booked us with Rios Tropicales. Our guide, Cristian, and his assistant (I forgot his name) took really great care of us. They cooked for us and took us hiking and ziplining. The lodge was so freaking awesome. Like, craaaaaazy awesome. It's not what you would expect for a lodge in the middle of nowhere. It was nicer than a lot of hotels we've stayed at and definitely much more interesting!

I was a little hesitant about the whole nature thing in Monteverde because we don't really know anything about what to look for. I mean, we could be like, "Hey look, there's a nice looking plant" but that's about it. And we wouldn't have known where to look for all the wildlife. I mean you told us in our itinerary that we would have a guide, but I thought it just meant someone was going to go hiking with us along with another group and point things out. But no, it was so much more!! WE FREAKING HAD OUR OWN PRIVATE NATURALIST FOR 2 DAYS!!! That's nuts! We totally did not expect that. FEDERICO TOTALLY MADE OUR TRIP!!! Always carrying around that bigass telescope and talking nonstop about this and that. "Oh my gosh, look here!!! No no, there, there!!!" HAHAHAHA! Made us feel like VIPs!!! And our driver! Shampoo! He's such a nice man!! The two of them make such a great team. We learned a lot from them, and they were so patient with us. We laughed a lot and had a lot of fun, more than we ever thought we would have. I hope they're doing well!

Oh, while we were at the lodge in Monteverde, my friend Lisa thought one of the staff was really hot. I forgot his name, but he worked at the bar and restaurant. I think he's married and has a kid. She was trying to hit on him in Spanish but she doesn't really know that much so she said, "Con permiso guapo!!!" And then tried to ask him in Spanish what his plans were for the night, but I don't think she said it right. Haha, I think the staff thought we were nuts :)

We loved our itinerary. We loved the people we met, the things we saw, the food we ate. Dude, who knew rice and beans could be that good?!!! And we drank a lot of guaro :) It was the best experience ever. Thank you so much for planning it for us. Everything was so easy, accomodations were in optimal locations, drivers were on safe and on time, itinerary was the best. SO AWESOME. I only wish we could have met you to take you out for some drinks!

Below is a link to some pictures we took. We have A LOT of pictures of scenery, but I figure you have plenty of those. If you want more pics, let me know what you're looking for, and I can send them to you. We have over 2,000. :) We've been recommending you to everyone who's asked us about Costa Rica. Please let us know if you need anything or if you're ever in San Francisco :) Peace out Luis! I hope everyone gets a chance to have the same experience we did, pura vida!!
-Jennifer

Apr 22, 2009.- "The destinations and activities he set up for our family were perfect for all of us."
Dear Michael and Natalie: I am very glad to get your email as I have wanted to write you about our incredible trip. We have been quite busy since getting back, so this correspondence (as well our survey form) has not seen the prompt attention we had intended. Of course, one of the things we have been busy with is down loading the content of three cameras, so we will be glad to send you our compilation. Be advised however that we do find ourselves reliving these great times as we go through every single picture, so I expect that this process will be somewhat drawn out.

Shari and I have been very fortunate as we have had the opportunity to travel fairly extensively. Our first trip to Costa Rica was when Shari was pregnant with Natalie - a last vacation BC, "Before Child". We fell in love with the country and its people, particularly their knowledge and respect of the beauty and variety of nature that this one of a kind country provides them. We actually stayed at Si Como No that nine plus years ago, so we were excited to return. We knew on that first visit that we wanted to have Natalie experience this wonderful place as soon as she was old enough to appreciate its unique beauty and gracious people; we fully expected that she would soon feel as we did about Costa Rica.

What we did not expect was the unrivaled traveling experience that Costa Rica Expeditions along with your associates provided for our family every step of the way. At the outset, Luis Cubero gave patient and thorough consideration to the combination of our wishes and schedule requirements. The destinations and activities he set up for our family were perfect for all of us. Then, arrival - and from that point on a seamless, smooth (yet still fun) transition from point to point; and while Shari and Natalie were both comfortable and impressed, I must tell you that as the person who is usually concerned with making sure all the pieces fit, I finally had a real vacation myself.

It is difficult to single out individual areas where our expectations were exceeded, but certainly the food at each of the destinations Luis picked for us was beyond surprising (you're bound to get a least a few pictures when we send you a disc as we soon started taking pictures of plates before we dug in). For us; ideal accommodations, incredible food, impeccable service, fascinating guides, and friendly and empathetic assistance at every turn. For her part, Natalie is hard pressed to pick a favorite highlight - was it zip lining through a forest canopy, watching a troupe of monkeys do acrobatics across her path, or just relaxing in a palm surrounded pool.

I have already forwarded your link with my recommendation to several business associates, and Shari is spreading the word to all of her Delta Airlines co-workers, so we do hope we can have some friends share this wonderful vacation experience. Please don't hesitate to have any potential customers contact us for our family's unqualified recommendation. Our sincere thanks for, just as you promised, the trip of a lifetime.
-Bruce, Shari & Natalie Clark

Apr 15, 2009.- "We travel quite a bit, but we've never had a vacation like this one."
Dear Mr. Kaye: I couldn't write to you soon enough to let you know what an incredible Costa Rica vacation we had last week. Marco Hernandez did such outstanding planning for us and it all exceeded our expectations. Each driver and tour guide was professional, knowledgeable, enthusiastic and very, very nice. They all enjoy working for or being affiliated with Costa Rica Expeditions - it's really quite a team. And the accommodations in Arenal and Monteverde were perfect. The views were so beautiful from both and the food at the Monteverde Lodge (that I believe you own) was delicious. When we began the planning process, it was so confusing, but Marco took the bull by the horns, and put it all together for us. We travel quite a bit, but we've never had a vacation like this one. We're looking forward to returning to Costa Rica and exploring more and more. Again, I had to let you know how this wonderful experience began with Marco's help. He's top on the Briskin's list!
-Gloria Steinberg Briskin

Aug 14, 2008.- "Our favourite hotel was Tortuga Lodge - so beautiful, so well run, great staff and with excellent food."
Hola Luis: I'm writing to thank you for arranging an amazing holiday for us. We loved Costa Rica, it was everything we hoped for. You and Costa Rica Expeditions are to be congratulated on your efficiency, courtesy and your excellent properties. Please give our very best regards and thanks also to Nils, Troy and Maurizio for being such excellent ambassadors for your country and company. Thanks also for arranging at such short notice that extra plane trip from Arenal to Samara; it was really worth it, and felt very special having a plane all to ourselves. In fact one thing we loved, and which we have never done before, is having transfers all arranged. It's definitely the way to go.

Our favourite places were Corcovado and Tortuguero, and we liked Arenal and Samara a lot too. Samara is so much nicer than Puerto Viejo de Talamanca. Our favourite hotel was Tortuga Lodge - so beautiful, so well run, great staff and with excellent food. Our next favourite hotels would be Corcovado Lodge and Arenal Manoa.
-David McKenzie & Brad Mercer, New Zealand

Jul 29, 2008.- "Thank you for running such a competent company in a beautiful country."
I have been busy with regular life and have failed to let you know about our wonderful trip. I tell everyone that we found a "Slice of Heaven." Donna and I made a friend and were so well taken care of by Mauricio Quiros. He treated us with the most care, along with other staff of Costa Rica Expeditions. We really enjoyed having our own room some of the time - this made the bathroom so much easier for two ladies! We do hope to return some day and are presently showing our pictures to all who will listen. We enjoyed the country and the gracious people. We recognize how important the rainforest is to the whole world and its future. Also the food at each of the stops was superb and Mauricio knew the best on the menu! Thank you for running such a competent company in a beautiful country.
-Eloise Downs, MO

Jul 29, 2008.- "The hotels were first class, the food was excellent and the sites and activities were also memorable."
Our nine-day vacation to CR was a marvelous experience for myself and my family. The hotels were first class, the food was excellent and the sites and activities, which were planned for us, were also memorable. Max, our driver did a fantastic job considering the road and traffic conditions. As for our guide, Miguel Marin, he was a true and very knowledgeable professional. He took care of us - helped us, guided us, and educated us thoroughly about all the facets of ecology and about Costa Rica. Everyone of us left feeling it was a great trip well worth the money. We left tired but happy. Thank you very much for all your organization did for us.

P.S. It will be a pleasure to recommend you to our friends. We have hundreds of pictures to prove it.
-Joaquin Trevino

Jan 15, 2008.- "Your whole team responded time and again to unexpected situations and handled them with such grace and professionalism."
I want you to know how grateful my daughter and I are to your entire staff. We have never had the opportunity to travel internationally together before and this father-daughter adventure was very important to us. We ran into a serious problem when snow storms in the US prevented us from making our connections to the flight leaving for San Jose. There was not a single seat available for days into San Jose because of the holidays. Our hearts sank. There were, however, 4 seats on a flight to Liberia, Costa Rica almost 5 hours away near Nicaragua. I called your team and within thirty minutes they had made all the arrangements to pick us up at that airport charging what I thought was a very reasonable transportation price under the circumstances. We switched our flights with the help of the airlines and this saved our vacation which otherwise would have ended before it began. We arrived and joined the group on time for the local flight to Corcovado. This was just one example of how the office personnel and your whole team responded time and again to unexpected situations and handled them with such grace and professionalism far beyond our expectations.

Here are some additional examples:
Our guide Luis Torres provided outstanding hospitality and knowledge of the wildlife. He, too, excelled at solving problems and responding with expertise. I will share just two examples. We were hiking in the Corcovado National Park and one of the group members slipped and hit her head hard on a low branch near the trail. Luis treated her cut swiftly, with compassion and was clearly well trained in first aid. Being a professional camp and retreat center director myself, I am aware of the proper procedures and their importance. I was very impressed by him.

The River and Rainforest trip we went on was logistically complicated but Luis and the other Costa Rica Expedition staff handled it very smoothly, even when there were hitches. When we went white water rafting, a communication mix up resulted in the river guides not being at the location we thought they would be. Quickly Luis went to the top of a high ridge to communicate by cell phone then made his way to another put-in for rafts where the guides were and brought them to us by riding with them on the river to our location. Now, that is going the extra mile to make our trip the best it can be. By the way, the safety instruction given by the raft guide to our group was the best safety presentation that I have ever experienced bar none, and I have often rafted in Oregon and Colorado as part of camp and retreat programs and own a white water raft myself. The rafting guide for our boat was Jorge. Excellent. I want to also mention Juan Carlos, the bus driver. He did an incredible job driving us safely and efficiently throughout the country, even on some difficult back roads which are part of any adventure trip.

I wish I could name all the persons we met and give them the accolades they deserve, but let me just say that in each of the three main destinations of our trip we encountered friendly, caring staff. The food exceeded what I had imagined for a trip like this - Wow. The wilderness experience during the white water trip was no exception. The food cooked was plentiful and delicious. The lodging in each leg of the trip met our needs nicely. Even in the jungle on the Pacuare River, the tents were on platforms and sheltered from rain and bad weather and there was a very nice group gathering shelter.

We wanted an active vacation where we could see things we had never seen before balanced with times of rest and renewal. The rigors of hiking and rafting were exhilarating and still we had moments to ourselves to reflect and relax. Thank you to everyone for providing a very special time that we will remember all our lives. Costa Rica is such a special country and the natural environment a sacred gift. We appreciated the care given to protect the environment and to help keep the human impact to a minimum in a variety of intentional ways.
-Kevin Witt, OR

Aug 27, 2007.- "The wildlife at the tip of our fingers that we encountered at the Tortuga Lodge, was truly wonderful."
Although I had never used Costa Rica Expeditions before, I knew everything would go well from the very beginning, due to the professionalism exhibited by Paula, my travel consultant. Every suggestion she had, turned out to be a good one. Starting with the Bougainvillea Hotel, in San José, where at night, we saw tons and tons of frogs at the little pond in the hotel gardens. It was just perfect for my kids to enjoy themselves upon arrival! I had already been in Costa Rica several years before, but this trip was much more memorable for myself as well as for my two children (Isabella, 6, and Nicolas, 9).



Beginning our trip in Tortuguero was wonderful. The wildlife at the tip of our fingers that we encountered at the Tortuga Lodge, was truly wonderful. We loved the service, the food, the guides, everything! The Turtle Tour in the evening was definitely a highlight of our trip - although my favorites were the Blue Jeans Frogs all over the Hotel gardens. Our guide, Gerardo Aguilar, was wonderful.

He was our guide during most of our stay in Tortuguero, starting from our boat ride from Caño Blanco, to the Turtle Tour and other tours we went on. Gerardo was very knowledgeable, friendly, and professional, we thoroughly enjoyed him. We did meet a lot of people along the way, Ticos and others too! They will definitely remain our friends through time.



From Tortugero we went to Monteverde. The Monteverde Lodge was also a wonderful place to stay. We enjoyed our time in Monteverde greatly. The Hotel staff was very friendly, accommodating and professional. The food was outstanding! Watching the hummingbirds every time we sat down to eat was definitely something we all looked forward to at mealtime. I must say I love the fact that there are no TVs in your lodges.

The Tortuga Lodge reminded me of a place I used to go to on vacation when I was little (I am from Argentina originally), in which meals were served at specific times, family style, just like the Tortuga Lodge, and a bell was rang to let people know it was time to eat. I used to sometimes get the privilege of running around the 27 room hotel to do the honors with the bell! It definitely brought back great memories. Just as when I was little, we used to gather around a big coffee table to play board games and cards in the evenings or rainy days, just as we did at the Monteverde Lodge.

We then headed to the Ocotal Resort, since we wanted to end our trip relaxing by the beach and I wanted to go scuba diving. The resort was perfect for that. We also greatly enjoyed it. I did hear other people complain about the resort, but for me it was perfect. I was mostly interested in the diving they provide, and from what I hear, they are the best dive shop in the area, so I was happy! The only thing I can say about the resort is that the evening menu is quite fancy, so for young children it might be a bit hard finding a quick meal at dinner time. So we did go out to eat during our stay. In that respect, the Tortuga Lodge was just perfect for us. That style of food fits better with me than the fancy style! (No offense intended! – and I do love to cook!)

Paula, you asked for suggestions, and other than what I said about Ocotal, I can't think of many things I would want to improve on our experience with Costa Rica Expeditions. All along my trip, I was thinking, "I wish Michael Kaye would open a branch office in Argentina!" Although I am from Argentina, I have lived in the US now for 20 years, and when I go on vacation to Argentina, I sometimes feel there is great opportunity for a good outfit such as yours. That is not the line of business I am in! So I would never dream of even trying, but I wish the level of service you provide, were present in Argentina!

I have tons of pictures of my trip! I am attaching some of my favorite ones, I hope it's not too much! These were all taken at your lodges for the most part, except for the diving ones, which were at Ocotal. I know you will recognize most of these locations! I hope they are useful to you!

Thank you so very much for a great trip! I can't wait to go back. I hope you can let me know what would be a good time to go to your Corcovado Lodge. I understand that is one of the best places to see some of the wild cats, and I think my kids would love it. My son is a true animal lover, naturalist and environmentalist (at his young age!) He started as soon as he started talking! So, I know he would love to go.
-Veronica Geller
Apr 27, 2007.- "The itinerary was perfect, the accommodations and food were excellent, but the best part was your staff."
We very much enjoyed our trip with your company. The itinerary was perfect, the accommodations and food were excellent, but the best part was your staff. Andrew Newcomb did a tremendous job. He was very informative and was helpful and conversant on a wide range of topics, some of which were totally unrelated to what we were doing or seeing. He is a very intelligent man. He provided options and was always flexible in accommodating the schedule to our wishes. He is also an excellent birder. We would never have seen the 113 types of birds we did without his keen eye and powerful lens. I know I will spell his name wrong, but Eitel was a great driver. He not only handled his job perfectly, but was good company and was able to add to the conversation and enjoyment of the trip. We would, and have, recommended Costa Rica Expeditions to others.
-Jon Muth
Apr 21, 2007.- Corcovado Lodge: "(We) were very impressed at the high level of service and food that was provided."
Our trip to Costa Rica was great and Corcovado tent lodge was even better. My wife and I were very impressed at the high level of service and food that was provided. Julian and Marcia do an outstanding job at taking care of all of the guests' needs.
-Greg Sullivan
Apr 12, 2007.- "Tortuga and Monteverde Lodges were both great - and the food was outstanding."
We just wanted to let you know that we really enjoyed our Costa Rica trip. All the arrangements worked out perfectly. The drivers and guides were very punctual and professional. Tortuga and Monteverde Lodges were both great - and the food was outstanding. Even the weather cooperated. If we have one complaint, it is leaving at 4:15 AM for our return flight. We were all checked in and through immigration by 5 AM and had a lot time to kill. Lots of friends are interested in hearing about our trip, so you may get some more business!
-Steve & Mary Muller
Feb 18, 2007.- "One of our best vacations ever...The facilities were nice, the food was great and the staff were outstanding."
Dear Herrol: Back in cold western North Carolina after one of our best vacations ever, we'd like to thank you and all the Costa Rica Expeditions staff for making our Costa Rica vacation a great experience. Each trip component, starting with our arrival at the airport and ending with a drop-off at a car rental agency, included caring CRE staff ensuring that we were in the right place at the right time. Every part of your package was wonderful - the facilities were nice, the food was great, and the staff were outstanding. We'll certainly advise friends to consider Costa Rica Expeditions in their travel plans, and hope that we, too, can again use your services some day.
-Chuck and Tia Ramsey
Feb 16, 2007.- "The itinerary you put together was excellent and the service first class."
Michael and Natalie: I want to let you know we had an outstanding time on our tour in your country. The itinerary you put together was excellent and the service first class.
All of the accommodations met the standards we expected. The transfers and guides were very informative and accommodating. The food, when provided, was excellent. The only issue that I had during the trip was at Tulemar. We didn't have access to the AT&T in country toll free number from our Buena Vista Villa. This was an inconvenience; since, we had to go to a pay phone on the highway to make calls back to the States.
I also want to thank Nadya for her help in arrangements for the trip. Her service was great and she was a pleasure to work with.
-George Siler
Feb 16, 2007.- "…Adventurous hiking, 70 sightings of different 'critters,' excellent food, transportation, lodging and great companionship."
We had the extraordinary pleasure of using Costa Rica Expeditions on our recent visit earlier this month. Douglas Espinosa advised us and organized our trip. Our driver/guide was Mauricio and our naturalist guide was Federico Alban. Mauricio is an incredible driver. He negotiated the roads in a safe manner, kept our mini-van immaculate and comfortable and always had our best interests at heart. Federico took us on amazing hikes, is extremely knowledgeable regarding flora and fauna and made our experience one we will never forget. Both gentlemen are a credit to your organization. They are professional, informed, dependable, personable, and highly skilled in their respective roles.
We enjoyed every aspect of our three-night tour of Monteverde and Arenal. We had adventurous hiking, 70 sightings of different "critters", excellent food, transportation, lodging and especially great companionship with Mauricio and Federico. You obviously run a fine organization and Federico and Mauricio represent you extremely well. Thank you.
One constructive criticism would be minor but important enough to mention. At your Monteverde Lodge, the policy is to charge your guests for soft drinks and coffee at meals. It seemed out of character with the first class treatment we received portal to portal on our vacation. At the Lost Iguana Lodge and at every other meal, we were spared the minor annoyance of having to pay for soft drinks. Please don't let this detail blur our message of total satisfaction with Costa Rica Expeditions. We hope to use your services again in the near future and have already recommended your firm to our friends and family.
Thank you again for providing the resources that made our Costa Rican adventure so enjoyable and memorable. Please pass along our warmest regards and gratitude to Mauricio and Federico.
-Pat and Don Auriemma
Dec 16, 2006.- "The first good food I have ever eaten in Costa Rica."
Monteverde Lodge was great. The first good food I have ever eaten in Costa Rica. We went 4 yrs ago as well. We should have stayed at your lodge in Tortuguero because I didn't realize Pachira had become like a factory... way too big and I didn't appreciate being told where to sit for meals since I was not part of a tour. Would definitely stay with you in the future. The major rain Dec 1-8 was pretty bad. Do you have any suggestions of a better month to visit? it is probably unpredictable but it is difficult to see animals when it rains so much. thanks again!
-Valerie Goldstein
Sep 11, 2006.- Tortuga Lodge: ''The food was the best I had in Costa Rica.''
Finally getting around to answering your email. We had a wonderful time at the Tortuga Lodge. I can't say enough good about the service and facility we visited. The whole experience was excellent -- right down to the wild, stormy July nights we spent there. I loved it and look forward to coming back. Your staff was friendly, efficient, helpful. The food was the best I had in Costa Rica. The presentation of your food was lovely -- thank you to your chef. The waiters/waitresses were so pleasant and patient with us. We all enjoyed your housekeeping staff -- they very patiently tried to help us with our faltering Spanish and allowed us to practice on them.

The boat tour of the canals with Nardo (Gerardo Aguilar) was so very interesting and he obviously has a great knowledge and love of your wildlife. I recommend Costa Rica Expeditions to everyone I can when I recount our wonderful trip this past July. All of us had a super day rafting -- but my kids, in particular, enjoyed it, as they hadn't been rafting before. Alejandro Carazo, the rafting guide, was excellent and I really appreciated how generously he shared his wealth of knowledge.
-Laura Preheim
Jul 18, 2006.- "Food, service and accommodations were all top notch."
Our time in Costa Rica was amazing. Our stay at the Corcovado Lodge was first rate, the food, service and accommodations were all top notch...and we definitely hope to be back one day.
-Darrin and Monika Meehan
Mar 1, 2006.- "Tortuga Lodge was beautiful and the food delicious."
We indeed had a wonderful time in Costa Rica. My family's glowing reports to friends seems to have inspired them to investigate a trip to Costa Rica for themselves. Your agency's services were outstanding. Everything happened exactly as it had been explained to us - all pick ups, transfers and hotels and tours. Our guide to Tortuguero was excellent - well informed, eager to relate information to share and friendly. The Tortuga Lodge was beautiful and the food delicious. Our plane ride back to San Jose was fun and exciting. And the taxi driver who met us at the airport was prompt and friendly. Again, everyone we met in Costa Rica was friendly and helpful. The country is beautiful and the outdoor opportunities are endless. Our experience in Costa Rica could well be remembered as our family's best vacation ever!
-Allison Taylor
Feb 1, 2006.- ''Your impeccable planning made our vacation a true vacation.''
Hi Marco: I just wanted to tell you how much we enjoyed our trip to Costa Rica. We LOVED it!!! We liked all the things that we saw and especially enjoyed our time in the Osa Peninsula. It was more untouched than the other areas. La Paloma was beautiful and the people who worked there were wonderful. The food was also great. The Tortuga lodge, Monteverde Lodge & Arenal Lodge were also wonderful. Your impeccable planning made our vacation a true vacation. We only wish that you could have changed the weather our last day in Arenal, as it rained. We never got to see the volcano. Oh well, I guess that we'll have to come back. The hot springs and meal at the spa was also fabulous. Thanks for letting us know about it.
-Jo Ann
Jan 6, 2006.- Corcovado Lodge "was the highlight of our entire trip!''
My fiancé, Jonathan Nituch, and I stayed at Corcovado Tent Lodge from December 3-6, 2005. I have to say it was the highlight of our entire trip! Everything was perfect. We enjoyed every minute and hated to leave. Every place after that we stayed in just didn't compare. I really appreciate all the help I received in retrieving my lost suitcase with my wedding dress in it. I am already planning my next trip to see the rest of the country, with a stop at the Tent Lodge, no matter where we are.

There was one dish at supper at the Tent Lodge that I really enjoyed and would like to make at home. It was sliced tomatoes, a basil leaf and a slice of cheese. What is the name of the cheese? Was it local cheese, or do you think I can find it Canada? Thanks for everything!
-Kerri Pokorny
Jun 3, 2005.- "Once at the (Monteverde) lodge, I was impressed with everything."
Michael and Natalie: …I loved the tour. First, I had James Lowis on the ride up to Monteverde. He made the trip pleasant and we found lots of birds along the way. I certainly count him as a new friend. Once at the lodge, I was impressed with everything, the building, the bed, the grounds, the staff, and, especially the chiefs.

The hotel I was at in Alajeula, Martino Resort, had offered very nice Italian food, but hadn't begun to suggest what I could expect at Monteverde Lodge: one wonderful appetizer and entrée after another. …The restaurant at the Monteverde Lodge could easily thrive in San Francisco - my highest complement! The service matched the food - consistently excellent.

But ultimately, I came to see the jungle. Carlos, my guide, was great. We saw three Resplendent Quetzals within minutes of entering Monteverde – which, I certainly wouldn't have seen without his eyes and his 20x scope. And, of course, we saw many other birds, and the trees and plants of the jungle itself. The trip was wonderful, and probably the best buy I've ever gotten for my vacation money. I look forward to going somewhere else with you guys in the future - to other jungles and down wild rivers.
-Paul Harmon, CA
May 16, 2005.- "Our stay at Corcovado was enchanted."
While in Costa Rica our family stayed at the Corcovado Lodge Tent Camp. Before the trip when I told my husband we were staying at a "tent camp" while on the Osa Peninsula, he was, to say the least, reticent. However, I am happy to report that from the moment we arrived at Carate and were greeted by the gentlemen with the luggage cart, and began our walk down that gorgeous beach, our stay at Corcovado was enchanted. When we came upon those beautiful grounds of the your tent camp, we cheered with joy. From the hibiscus flowers on the beds, to the hammocks in the bar, these extra touches that you and your staff go out of your way to do, creates a magical experience. Every staff member was courteous, informative and more than helpful. Our guide was knowledgeable and thorough and increased our enjoyment of the park. And the food was excellent! Thank you and your incredible staff for a marvelous stay.
-Rebecca Wilder
Mar 12, 2005.- Monteverde: "We cannot wait to go back."
Hello Herrol: My wife and I had a wonderful time in Costa Rica, and especially at Monteverde Lodge. Everyone was very nice and helpful, especially Ari and Leo at the front desk, the waiters in the restaurant (which had great food, contrary to the reviews I read) and they really made our stay special. We got the chance to see our scorpion (in the dome light in our bathroom), plus many hummingbirds, quetzals, coatimundi, toucans - everything we wanted to see and more. Thank you so much for your help in arranging our trip, we cannot wait to go back.
-Tony Fasy
Mar 2, 2005.- "Your service, contacts, scheduling, drivers, etc. were faultless and we were pleased with everything."
Just wanted to let you know that your service, contacts, scheduling, drivers, etc. were faultless and we were pleased with everything. We had never been to Costa Rica before and it was certainly helpful to have your expertise. We stayed at Monteverde Lodge and it was delightful. Food was delicious. We are recommending your agency to friends of ours who are ready to embark on planning a trip to Costa Rica. Thank you again,
-Helen and Jim Petosky
Jan 20, 2005.- ''Monteverde Lodge was wonderful! We loved it! The food was delicious and the people kind...''
Dear Michael and Natalie: We had a wonderful time in Costa Rica and will definetly be planning a return trip! I was a little hesitant in using your services because all correspondences were through e-mail, making it hard for me to get a sense of how reliable you would be. My comfort level rose when we were greeted in the San Jose airport and everything was so well organized. Additionally, Mauricio, our driver was so kind and knowledgeable about the country and it's wildlife that we felt the drive to Monteverde was an adventure in itself. Mauricio even pointed out our first monkey sighting and numerous birds along the way. Once in Monteverde, the Monteverde Lodge was wonderful! We loved it! The food was delicious and the people kind and interested in our satisfaction. We will include it in our return trip. I miss sitting by the fire! I'd like to also say that Luz was wonderful in helping us and we appreciate all her efforts in making this a great trip! We look forward to our next trip and will be getting in touch to schedule.
-Maria Lyons
Jan 14, 2005.- "Great people, delicious food, magic place!"
Just a quick e-mail to mention that Corcovado Tent Camp made for one of the highlights of our trip to Costa Rica this year! Great people, delicious food, magic place!
-Gabriela & Romulus
Dec 18, 2004.- ''Our experience with Costa Rica Expeditions has been nothing short of delightful.''
My boyfriend and I would like to thank you for the wonderful time we had while we were in Costa Rica. Our experience with Costa Rica Expeditions has been nothing short of delightful--from the travel arrangements which Rebeca Zuniga facilitated, the punctual pickup from our hotel, the great food, the friendly and hugely efficient staff at the tent lodge, and most of all, our tour in Corcovado.

Sofia Cordero, our guide, really made the trip for us. She was very knowledgeable, and very kind. I cannot imagine how we would've fared in the rainforest without her! She also provided us with some valuable insight about Costa Rica, which was just as important as all the wildlife that we saw.

The downside is now, my boyfriend refuses to travel to another country without a guide, but I think it will be very difficult to find someone as good as her!

To Sofia, Rebeca, Olman (who flew in to Corcovado with us), Elyer (the wait staff at the tent lodge), and everyone else in Costa Rica Expeditions, our warmest gratitude for a most memorable experience!

I would also like to commend Costa Rica Expeditions for your efforts in protecting Costa Rica's precious resources, and for sharing with us outsiders how important it is to do so. Staying at the Corcovado Lodge Tent Camp has been one of my most guilt-free indulgences.
-Simone
Dec 9, 2004.- ''The food was a gastronomic delight - the tents were fabulous...beautiful next to the Pacific.''
I just spoke with my clients - they gave me such a glowing report of their trip to Costa Rica that I just wanted to share it with you. They could not believe how well organized their trip was and how much they accomplished and saw in so short a time - thanks to the great organization of Costa Rica Expeditions.

Their guide - Elston - was a charming, polite, humble person, extremely well-spoken in English and Spanish and so knowledgeable of all the different animals and ecosystems. They said the food was a gastronomic delight - the tents were fabulous - glorious, beautiful next to the Pacific. They loved every part of the trip - the Canopy was amazing and the Butterfly farm fabulous. The service throughout was far better than they had expected.

They loved the Hotel Grano de Oro in San Jose. All in all, both mother and son had a wonderful trip which surpassed their expectations - despite the "cold showers" - but as they said "that was ok too". Thank you for putting this together for them - I can't wait to do the trip myself someday.
-Ann Court, 4 Seasons Travel, Inc.
Oct 8, 2004.- ''The food at Corcovado was so good you ought to offer a Corcovado Lodge Cookbook.''
We've been home five days and I can't stop thinking about Costa Rica and all the great experiences we had while there. Thanks again for the trip of a lifetime. I sent some specific feedback to Priscilla Jimenez already which she forwarded to you. One suggestion I forgot to include in my earlier e-mail: The food at Corcovado was so good we thought you ought to offer a Corcovado Lodge Cookbook for sale to your guests. We certainly would have bought at least one copy.
-Tom
Oct 8, 2004.- "I can't stop thinking about Costa Rica and all the great experiences we had while there."
Dear Michael: We've been home five days and I can't stop thinking about Costa Rica and all the great experiences we had while there. Thanks again for the trip of a lifetime. I sent some specific feedback to Priscilla Jimenez already. One suggestion I forgot to include in my earlier e-mail: The food at Corcovado was so good we thought you ought to offer a Corcovado Lodge Cookbook for sale to your guests. We certainly would have bought at least one copy.
-Tom and Shelley
Mar 29, 2004.- "Corcovado Tent Camp was nothing short of paradise."
Our trip was absolutely wonderful and without question Costa Rica Expeditions made visiting such a beautiful country ever so much more wonderful. Your company took away any stress one would normally have in a foreign country. Corcovado Lodge Tent Camp was nothing short of paradise. The Hibiscus on the beds and pillows was a very nice touch. The staff was outstanding. The food tasty and plentiful. This adventure was the highlight of our trip.
-Bill Demlong
Feb 7, 2004.- "The whole tour was professionally conducted with our every need attended to."
We recently returned from our trip to Costa Rica. We booked with International Expeditions but spent the time with Costa Rica Expeditions. We are very pleased and wanted to let you know.

The trip exceeded expectations (and we had high expectations). The whole tour was professionally conducted with our every need attended to. The food was not only tasty but more than abundant. Having the option to order from a menu was an unexpected pleasure. The accommodations were very clean and comfortable. Our only wish would be for screens in the rooms at Montana de Fuego and Villa Caletas so that we could let in the wonderful fresh air without the bugs.

Villas Caletas was the perfect ending with it's breathtaking views, beautiful grounds, gorgeous rooms, gourmet food and impeccable service. Although we had no problems is might be wise to warn guests earlier about all those steps!

We cannot give high enough praise for the guides and drivers. From the moment we arrived we were well taken care of. Favio met us at the airport. He and Favio (the driver) saw us safely to our hotel and made sure we had everything we needed. Mainor Gonzalez (Mongo) was our driver for the majority of the trip. Mainor is a most careful driver and we felt very comfortable with his driving. He is very efficient and friendly. Franklin (Eagle Eye) was our boat driver in Tortuguera. He did a wonderful job and was a joy to be with. How he spots all those animals and drives too is beyond me.

Saving the best for last, Elston valentin. We give Elston our highest praise. He is extremely knowledgeable, helpful and attentive. His enjoyment of his job and pride in his country is infectious. It was wonderful to see the country through his eyes! I decided to keep a list of the birds I saw on this trip and at the end my list has 129 different birds! Needless to say, we are very pleased with your company and will recommend it to everyone.
-John & Estelle Evans
Sep 5, 2003.- "Nothing but praise from us."
We loved Costa Rica overall and our trip to Tortuguero was all pleasure. Kenya is an amazing host - and the food and guides were great. Nothing but praise from us.
-Jan Schachter
Nov 25, 2002.- "The food in the tent camp was incredible - we looked forward to our meals every day!"
My husband and I had a wonderful time in Costa Rica! We were very pleased with Costa Rica Expeditions. Every aspect of the arrangements was very well thought-out and organized, from the transportation to and from our hotel in San Jose, to the airport, to our hosts in Corcorvado Lodge Tent Camp, and our guides for different hikes. The food in the tent camp was also incredible, and we looked forward to our meals every day! We were also happy with the effort you put into minimizing our impact on the environment.
-Nancy & Steve