TORTUGA LODGE – A LITTLE PIECE OF PARADISE IN THE HEART OF THE JUNGLE
By JG, "J&M's Big Adventure," Blogspot.com. Sep. 2009.
For a special treat & to have a holiday from being a backpacker, Mark and I splurged on this fabulous boutique hotel which is without doubt one of the best hotels I have stayed in. In my previous job I regularly travelled the globe and stayed in some very good 5* hotels, however, despite only having 3*s, the (Tortuga) Lodge is absolutely world class in terms of tranquility and personalized service... Read the complete article.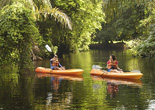 RAPIDS & RAINFORESTS
By Michele Ostrove, Frontier Airlines' Wild Blue Yonder, July/Aug. 2009.
Costa Rica is one of the smallest countries in the Americas, but don't be fooled by its modest size. Within this tiny footprint, you'll find one of the most richly varied geographies in the world...With so much to experience, you'll need a specialized outfitter that can customize your trip. Costa Rica Expeditions is a pioneer in adventure travel and ecotourism... Read the complete article.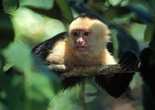 COSTA RICA'S FIVE MUST-HAVE EXPERIENCES
By Elizabeth Hansen, Ranch & Coast: San Diego's Luxury Lifestyle Magazine, June 2009.
Having heard horror stories from fellow travelers who had opted to drive themselves around Costa Rica (lack of signage being the worst problem), my husband and I opted to leave the driving to the pros at Costa Rica Expeditions. Founded by Michael Kaye in 1978, this ecotourism company is hands-down the most experienced and reliable in the country and has received numerous awards from Travel + Leisure, National Geographic Traveler, and others. Read the complete article.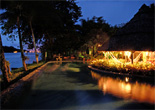 COSTA RICA EXPEDITIONS FEATURES AN INTRIGUING NEW WEBSITE & SUPERB HOTEL UPGRADES
By Christopher Baker, Moon.com, April 20, 2009.
On Costa Rica Expeditions' new home page, you are invited to complete a simple yet detailed "wish list" by clicking on boxes that record your personal interests and preferences for a trip...When you're done, a CRE trip planner goes to work behind the scenes to plan up to three itineraries – free! Read the complete article.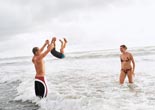 THE SIMPLE LIFE
By Ursula Fousler & Ann Armbrus, Travel & Leisure Family, Winter 2007.
Have you ever felt that the endless planning, maneuvering, and (not least) paying required for a relaxing vacation tends to cancel out the ?relaxing? part? Problem solved: journey with this clan to Costa Rica?s Nicoya Peninsula, where a blissfully uncomplicated, $100-a-night, thatch-roofed resort lets them unwind in easy style. Read the complete article.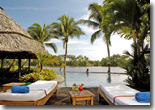 THE NEW COSTA RICA
By Julian Rubinstein, Travel and Leisure, Nov. 2007.
In the country that more or less invented eco-travel, you'll find lush jungles, enormous turtles, untouched beaches—and rapidly expanding luxury-resort developments. Read the complete article.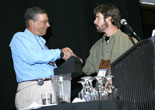 LIFETIME ACHIEVEMENT AWARD PRESENTED TO MICHAEL KAYE
by The Adventure Travel Trade Association
The award, conferred in Oct. 2007, honors pioneers of new routes and destinations, commercial adventure travel enterprises, responsible tourism practices and groundbreaking education and awareness initiatives in adventure travel. Read ATTA press release.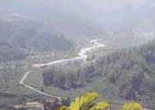 PURA PACUARE: PURA VIDA
By Misha Troyan, Jetsettersmagazine.com, Jan. 2007.
Our fate on the river will be left in the hands of the guides from Costa Rica Expeditions, an adventure company based in San Jose, Costa Rica. Founded in 1978, CRE was the first white water rafting company in Costa Rica and continues to set the standard today. Read the complete article.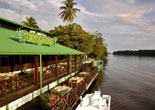 WINDOW IN THE JUNGLE: Costa Rica?s nature lodges put you in the middle of the rain forest.
National Geographic Traveler, Nov/Dec. edition, 2006.
If you?re looking for an experience that offers camping on a Pacific Ocean beach adjacent to one of the country?s most species-rich parks, book a tent at this unique property. Read the complete article. Read the complete article.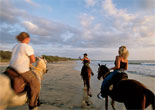 THE LOCAL CONNECTION
By Kim Brown Seely - National Geographic Traveler, Sept. 2006. Photo by Michael Melford. Booking through local outfitters: Costa Rica Expeditions' direct bookings increase.
Read the complete article.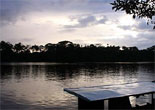 WAR IS HELL (on Adventure Travel Destinations)

By Richard Bangs - The New York Times, Feb. 2006. Photo by Sally Solaro. "Though my job takes me around the world seeking adventure, the one place I return to for my own busman's holiday is Costa Rica..."
Read the complete article.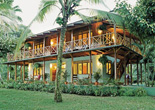 WHAT'S THE BEST FAMILY RESORT? Fifteen Top Travel Agents Tip Us Off
By Emily Shetler and Robert Mania - Travel & Leisure, Apr. 2005. Some of the country's leading travel agents tell us about their favorite resorts, including Corcovado Lodge.
Read the complete article.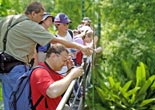 LOCAL HEROES
By David Noland - Men's Journal, Apr. 2004.
List of top 50 outfitters, including Costa Rica Expeditions, that specialize in offering a variety of trips in one region.
Read the complete article.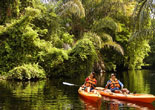 IT'S NOT EASY BEING GREEN
By Marcel Theroux - Travel & Leisure, Sept. 2001
Ecotourism is one of the fastest-growing segments of the travel industry: Costa Rica Expeditions' Lodges featured.
Read the complete article.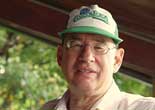 MEET THE GODFATHER OF ECOTOURISM
By Richard Bangs - Expedia/MSNBC, Apr. 1999
In an exclusive Q&A, Kaye separates the greenies from the wannabes and helps the traveler make informed decisions about ecotourism.
Read the complete article.