By Richard Bangs,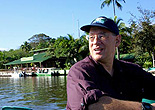 Michael Kaye, the native New Yorker who moved to Central America and launched Costa Rica Expeditions, has won numerous accolades for founding the original ecotourism company. And yet much of what passes for "ecotourism" in Costa Rica, he says, is merely "greenwash." In an exclusive Q&A, Kaye separates the greenies from the wannabes and helps the traveler make informed decisions about ecotourism.

This is bird watching in the rainforest with Michael Kaye:
"Over there, buzzards. Look alive!" The godfather of ecotourism is guiding as we trundle through Corcovado National Park in Costa Rica. Then, between the screeches of scarlet macaws, toucans and howler monkeys: "It doesn't matter how much wildlife you see in the jungle; it matters how much sees you."

Wisdom words from the man who knows, the native New Yorker gone tropo, who founded Costa Rica Expeditions 21 years ago. His is the outfit some cite as the original ecotourism company. Earlier this year Travel & Leisure magazine honored Costa Rica Expeditions with its Critics' Choice Ecotravel Award for pioneering successful, responsible ecotourism. This in the wake of ecotourism award honorable mentions by CondeNast Traveler in '95 and '96, and a raft of other eco-awards over the years.

Last month I spent a couple days mountain biking with Michael, bowling down the mile-high hill from his ecolodge in Monteverde to the Pan American Highway, and then through the coastal rainforest on the Osa Peninsula to his ecocamp at the southern edge of Corcovado, where he advertises: "all the comforts of home, if your bedroom is a 100-foot-square tent and you have to go outside and walk 20 yards to the bathroom." During the ride, between the ruts, bumps and puddles, I managed to ask Michael about the changes he's witnessed from the front lines of ecotourism:
RICHARD BANGS: What's different in the two decades since you came to Costa Rica?
MK: About 800,000 tourists. There were maybe 200,000 visitors in 1978; now there are about a million.
RB: Is the country reaching carrying capacity?
MK: Carrying capacity could increase. One way would be to have more tourists come from April to November, the rainy season. Another would be to improve the infrastructure; still another is to be smarter about moving people. In Monteverde, for instance, traffic controls were established to get rid of bunching. A 45-minute slide show was created. More restrooms were installed. Trails were hardened to handle more people. These simple tweaks made a big difference in the amount of people who can visit the reserve without compromising the quality of the experience.
RB: What brought you here?
MK: I came to go rafting. I'd been a river guide on the Stanislaus River in California, and sadly witnessed its damming. I went looking for new challenges in Latin America. I saw the Reventazon River from a train, and knew I had to run it. It was the first rafting expedition in Costa Rica. Now there are 19 companies taking more than 80,000 rafters down Costa Rica's Rivers each year. I fell in love with the country and its rivers, and so I stayed.
RB: What is ecotourism?
MK: Well, in my mind it is tourism that benefits rather than exploits the natural and human environments in areas visited. It is active rather than passive, emphasizing cultural exchange rather than mere sightseeing. It is value-driven, as opposed to ordinary tourism, which is profit-driven. Typically, if humans intrude, there is negative impact, so this is tourism that does more good than harm; there is a net positive gain.
RB: What kind of harm?
MK: If you walk in a wilderness you contribute to erosion and disturb the wildlife. Another harm is aesthetic... If every place you look in the Masai Mara you see a safari vehicle, there is no sense of being in a wilderness. The fact is the best of modern mankind has not learned to live on our planet without doing a hell of a lot of damage. Womankind is only a little bit better.
GETTING WILD IN COSTA RICA
RB: Costa Rica is considered by many to be the model ecotourism destination, and it markets itself as such? Do you agree?
MK: Costa Rica has one of the best nature tourism products in the world. Our great virtue is that we protect over 25 percent of the land in parks or reserves. Yet, there is a tremendous amount of green washing. Every hotel and tour operator sells itself as "eco." Consumers can't very well tell what's real and what's not. Not that it makes much difference, because from what I can tell consumers don't really care. I can count the number of guests who ask about eco-ness in a year on two hands. And, those few who do ask, ask once they've gotten here, not as part of the buying decision. Mostly we get asked about our eco-correctness from academics and journalists, not tourists.
GREEN LABELING FOR LODGES
"All the attempts I've seen to label lodges according to their environmental friendliness have been exercises in making a living for the labelers." -Michael Kaye
RB: What about the various labeling attempts to rank ecotourism services and properties?
MK: They're all wonderfully vague. Lodges are given some sort of cutesy symbol instead of stars, like monkeys. A 1-monkey lodge pollutes a little less than a traditional hotel. A 5-monkey lodge doesn't pollute at all. It just sort of floats there hardly touching the ground. All the attempts I've seen to label lodges according to their environmental friendliness have been exercises in making a living for the labelers. I haven't been aware of any popular outcry demanding green labeling for hotels. Think about food, which people do care about. Do you think the public would put up with a system that gives natural granola 5 "little healthy hearts" and Twinkies none? Of course not. The public insists on objective measures it can understand: calories, grams of fat, etc. If we cared it wouldn't be hard to develop metrics for eco-friendliness in hotels. For instance, how much fossil fuel is used per bed night? Or how about foot-induced insect deaths per bed-night?
RB: Does the tourist board buy into ecotourism as a sustainable model?
MK: The tourist board wants to have its cake and eat it. They want to have the image of ecotourism, but they also want the big development money that comes with big resorts. The battle to keep Costa Rica exclusively for eco-lodges has been fought and lost. (At the height of the battle in 1993, Michael had a prime time TV debate with Luis Manuel Chacon, who was then tourism minister. Michael was widely credited with having won the debate, but not the war… big developments keep pouring in.) The government has short-term goals. It's not just Costa Rica; it seems to me most, if not all governments, prefer to think about the next election rather than the next generation.
RB: But the big resorts bring a lot of employment, and that's good for the country.
MK: Short term, it is good for the country. They do employ a lot of people. You have to give the devil his due. The problem is that Costa Rica's beaches are lovely but they're not that great compared to a lot of places. The country's biggest attraction as a resort destination is that it is uncrowded and unpolluted. Paradoxically, success breeds more development, which makes the place less attractive. More hotels; less people who want to go to them. Then employment shrinks and the people who moved to the resort area to make a better living are out of work. The result is a tourism slum. If you want to see what one looks like, go to Acapulco.
ETHICS THAT PREVENT CROWDING
RB: Isn't the potential for damage done by overcrowding and polluting just as great with ecotourism?
MK: With nature tourism it is. But it is part of the ethic of ecotourism to not overcrowd and pollute. If we build more rooms than an area can handle, by definition it is not ecotourism.
RB: Now, couldn't a chunk of the profits generated by the big resorts be used to protect the wild places and wildlife in Costa Rica?
MK: Now you've got me going. Big resorts are owned or managed by foreign companies, meaning this type of tourism is not nearly as beneficial for the country as it would if a greater percentage of the turodollars stayed in Costa Rica, as it does with true eco-lodges. Tourism for Costa Rica is like any other business. It's not how much money you bring in. It's how much money you keep.
RB: But you're a foreigner… doesn't this apply to you to?
MK: I live full time and spend my money in Costa Rica.
RB: Long before ecotourism was part of the travel vocabulary you were practicing what have become its core tenets. What was your motivation?
MK: I make no claims to being altruistic. It made a lot of economic sense. From day one I employed local guides. They are the best because they have the local knowledge. I very consciously created a pool of Costa Rican guides who are paid what would be middle class wages. It launched a whole new profession here, one in which people can really have decent lives. At our Monteverde Lodge we spent $60,000 to put in a solar hot water system. Now 80 percent of the energy for hot water is solar… it is not a big deal… it saves us money. Over the years we've donated more than $100,000 to help the cause of environmental protection and conservation in country, but it is money well spent, keeping our product attractive and worthwhile. Mainly we have benefited… we helped turn 200 acres in Corcovado from pasture back to rainforest, and lobbied the park service to raise fees from $1 to $6… we created an economic justification for keeping the land pristine, for not selling its hardwood. When it comes to wilderness and tourism, there is no better adage than "use it or lose it."
CRUSADING FOR LOCAL GUIDES
RB: Your literature emphasizes the local guides more than any other company I know. How come?
MK: I'm on a holy crusade to get people to understand how important the guide is. Walking alone through the forest when the animals are not cooperating is usually boring. Walking through the forest with a great naturalist guide is akin to experiencing a work of art, even if you don't see a single beast. There is drama; there is suspense; you laugh; you cry; you learn things. The great guides are part biologist, part performer, and part mother. Guides are where the most value can be added to travel. A healthy evolution of the vacation industry demands that the marketplace values guides more. We need kids dreaming about being guides when they grow up. We need old guides who keep at it until they retire. A GUIDES HALL OF FAME in Cooperstown. I'm sorry if I got carried away here.
DISCOMFORT GUARANTEED?
RB: Ecotourism to many implies barebones accommodations, maybe even discomfort, and minimal service. Is that a fair assessment?
MK: No way. High-quality service should be an important component of ecotourism. Highly demanding First-World guests set standards of what service should be. That is a key often neglected in all this ecotourism palaver. We need to provide very good service to have satisfied guests. You can't generate money to save wilderness areas unless you have happy guests who leave monies behind, and you can't get happy guests unless you meet or exceed expectations.
RB: True eco-lodges and eco-tours by definition are operated by locals. How do you provide the high level of service you say tourists expect when there are such culturally different understandings of quality?
MK: The greatest problem in quality of service is that Latins have a different concept of time. There is probably no right or wrong in the different perspectives; the Ticos (slang for Costa Ricans) might be right. They feel what is really precious is quality of personal relationships, rather than time… "There is more time than life," is a popular saying here. One of my challenges is to try and convince the guests to slow down.
RB: In the long run, how important is it really for travelers, properties and tour operators to practice the tenets of ecotourism?
MK: Damned important. If we ruin the planet, nobody's going to want to visit any of it.
Richard Bangs is editor-at-large for MSN Expedia, the author of a dozen travel books, and co-founder of Mountain Travel-Sobek.