By Christopher Baker (Moon.com),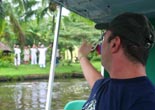 April 20, 2009 - I've always admired Costa Rica Expeditions for its quality product and top-notch service. Owner Michael Kaye, who cut his teeth as a whitewater rafting guide in California decades ago and founded the company in 1978, has always shown a cutting edge savvy. I was intrigued, therefore, when he recently told me about the company's revolutionary new website home page.

Simply put, you are invited to complete a simple yet detailed "wish list" by clicking on boxes that record your personal interests and preferences for a trip. Every preference you click is immediately saved. For example, the first box is for "Primary Trip Goal." You click on such options as "Lots of rest & leisure," "Physical Activity," and "Bond with nature." You can click as many as you wish. Other boxes record your preferences in 18 other categories, including "Pace & Activity"... "Romantic Celebration"... "Children."

When you're done, a CRE trip planner goes to work behind the scenes to plan up to three itineraries – free!

It's fun, and made visually more appealing by photographic links that click to separate web pages where you can learn more about CRE's own nature lodges, etc.

You can skip this page entirely and simply opt to visit the company's traditional website, chock-full of all the information you could ever wish for in planning your Costa Rica vacation. I've always considered Costa Rica Expeditions the one to beat. Visit their site and you'll understand why.

Meanwhile, Michael has been busy upgrading his three splendid nature lodges. During my visit (in December 2008) to Tortuga Lodge, in Tortuguero, to research my Moon Costa Rica guidebook, I was delighted to find that a romantic open-air bar with firepit had been added, and the dining experience has been upgraded to a new level of riverside luxe. Plus, staff was on hand at the wharf to welcome me and wave goodbye--a thoughtful touch. And did I mention the gourmet lunch served mid-way along the two-hour canal journey. Awesome! Michael is also planning on refurbishing the rooms to stay ahead of the keen competition. And Corcovado Lodge Temp Camp, near Corcovado National Park, is currently closed for a total remake that will see this lodge reopen as a truly deluxe wilderness lodge. Stay tuned!