River Guides

Born in San Jose on October 15, 1964, Gerardo, also known as "Siau," has been guiding whitewater rafting expeditions since 1986. He grew up on his father's farm in Turrialba where he spent most of his time outdoors riding horses and playing in the rivers and fields. read more...

---

Eduardo "Novoa" joined our rafting staff in 1998. Born on May 31, 1977, and raised near Turrialba, Eduardo first became interested in the river while working for a wooden paddle factory in town. A local rafting company warehoused their equipment next door and, interested in using the paddles he constructed, Eduardo began begging river trips with the guides. He also learned his English from his river friends. Eduardo is a keen birder and enjoys playing basketball and kayaking in his free time. He has a son, Dixon, 7. read more...

---

Juan Jose, 24, was born in the mountainous province of Turrialba, near the same rivers on which he now leads rafting trips. Before coming to Costa Rica Expeditions he worked as the safety kayak for different rafting companies. His first job was on the river with his cousins, who were guides themselves. read more...

---
RICARDO JIMENEZ

rjimenez@costaricaexpeditions.com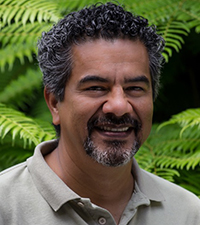 Ricardo, called Robalo by his fellow guides, has led a very interesting and diverse career at Costa Rica Expeditions. In 1989, he started as a bus driver for group trips. Then he decided that he wanted to become a river guide. Not speaking a word of English, he signed up for classes at the University and was conversing before the year was up. Working his way through the ranks, Ricardo became one of our head river guides in 1993. read more...

---

"I really enjoy meeting people from different places with different customs and being on the river with the other guides," says Walter, 21, about his job as a Costa Rica Expeditions guide. He started out kayaking on weekends and after school and then looked for a job on the river after graduating from high school. Walter, known as Pate, was born on Nov. 15, 1985. He has emergency first aid training is now studying at the Colegio Tecnica Profesional La Suiza in Turrialba. When he's not guiding or studying, he volunteers with the Red Cross. He enjoys listening to music or watching TV, and honing his kayak freestyle skills. read more...

---
↑ Back to Top