Tours of a Lifetime
National Geographic
Top 3, Best Values in the World
Travel & Leisure
sofia cordero For the Latest Feedback Click Here
Travel Planner
scordero@costaricaexpeditions.com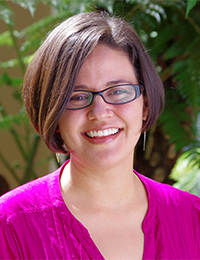 Born December 20, 1979, Sofía was raised in Heredia, Costa Rica. From the ages of 6 to 10 she lived in England, which accounts for her very good command of the English language. Both her love for nature and her country, comes from memories of her childhood when her parents took her to the many of the National Parks of Costa Rica.These trips were a major factor in her decision to study Biology at the University of Costa Rica.

Sofia began working with us as a Naturalist Guide in November of 2003. What she liked the most about guiding was the opportunity help her guests reflect on the complicated relationship between man and nature. "I am not an extremist," she says. "Many conservationists see only one side of the story. I like to give a balanced picture."

When Sofia was in training as a guide, here is what legendary biology teacher from Nolan High School in Dallas, Dr. Joe Kuban, had to say about her: "She was absolutely wonderful. The students were amazed that she was just a naturalist guide-in-training. I think she is mature beyond her years. Clearly, she has a grasp of ecology and natural history of organisms in Costa Rica...I would highly recommend her for any group visiting Costa Rica. She has the right passion and motivation/work ethic to be a fabulous guide."

After 7 years as a Naturalist Guide, Sofia and her husband Luis Alonso have started family. Their son, Gael, was born November 23, 2010 and Sofia is expecting a baby girl, Zoe. As a result, Sofia has decided to apply her knowledge in the field to designing itineraries for Guests first as a Travel Planner and then in May of 2012, as Operations Manager. Her experience in the field and as a Travel Planner is sure to be a great asset to Operations. When not working or taking care of Gael, Sofia enjoys all kinds of outdoor activities with her husband, Luis Alonso, and playing with her four Labradors, Lucca, Scott, Nico and Mia.