Tours of a Lifetime
National Geographic
Top 3, Best Values in the World
Travel & Leisure
larry marin For the Latest Feedback Click Here
Naturalist Guide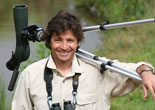 Since 1994 Larry has guided and managed tours all over Europe, Northern Africa, Asia Minor, North and South America, the Caribbean Islands, and of course his native country, Costa Rica. He has a B.A. in Tourism from Central American Autonomous University in Costa Rica and is certified by the International Tour Management Institute in San Francisco.

Larry grew up in an isolated, rural district in the rainforest near the Nicaraguan border. "At that time, and even today," he says, "there were no roads, electricity or even running water on our farm – nowhere better for a kid to develop a passion for nature."

Apart from Spanish, Larry speaks English fluently, French and Portuguese, and has a good knowledge of Italian. His multi-cultural experiences allow him to better share his passion for nature with people of all backgrounds. Those who have traveled with him say his love and enthusiasm for nature is contagious. When Larry is not guiding a tour, you might run into him birding in Guatemala, scuba diving in Malaysia, hiking volcanoes in Tanzania, or visiting art museums and galleries in Argentina (another of his passions).