Tours of a Lifetime
National Geographic
Top 3, Best Values in the World
Travel & Leisure
jonnathan vargas For the Latest Feedback Click Here
Naturalist Guide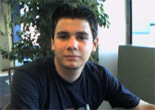 Born on May 29, 1988, Jonathan Vargas was born on the Caribbean slope in the town of Guapiles. His childhood was spent in large part playing outdoors, swimming in rivers and stream and climbing fruit trees with his friends.

As a young boy Jonathan remembers watching the buses with tourists pass through his town on their way to the attractions on the Caribbean slope. He started to dream about being a tour guide and showing guests the wildlife, forests and culture of his country. As a teenager, he convinced his class in high school to study tourism as an elective instead of some of the more traditional subjects.

Today, Jonathan has four years of experience guiding in Costa Rica. What he enjoys the most about guiding is the opportunity to meet new people and understand their way of seeing the world. He also enjoys the privilege of observing nature and the way it changes season to season, always offering something new.

When he's not guiding, Jonathan enjoys extreme sports such as mountain biking and rappelling.