Tours of a Lifetime
National Geographic
Top 3, Best Values in the World
Travel & Leisure
Arelis Marin For the Latest Feedback Click Here
Assistant Manager Monteverde Lodge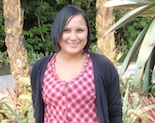 Arelis was born and raised in the region of Monteverde on July 8, 1985. She has worked for Monteverde Lodge for five years. The first four years she worked at the Front Desk and for the last year she has been the Assistant Manager of the lodge.

Arelis graduated from the Technical High School in the town of Santa Elena Monteverde this High School in known for its focus on the environment and sustainability. Arelis then went on to get what in Costa Rica is known as a Technical degree in Ecological Tourism. In order to get this degree, she first volunteered at the Monteverde Reserve and she then went on to work in their Customer Service Department.

What gives Arelis the greatest satisfaction as Assistant Manager of Monteverde Lodge is to participate in the process of Guest Delight and to send guests to their next adventure having expressed their joy with Monteverde Lodge, its service and food.

When she?s not working, Arelis enjoys all kinds of outdoor sports, her favorites are hiking, mountain biking and soccer. She also likes to listen to music, read and escape to the beach.