Tours of a Lifetime
National Geographic 2010, 2012
Top 3, Best Values in the World
Travel & Leisure, March 2012
Jonathan Rojas
Assistant to Director of Travel Planning
jrojas@costaricaexpeditions.com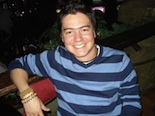 Born in Alajuela on January 24, 1981, Jonathan says he carries the travel industry in his blood. He gets it from his father who works in the Hotel business.

After starting his University degree in Hotel Administration at the Universidad Latina, Jonathan took a break to roll up his sleeves and experience the real thing. He worked at the Real Intercontinental and at the Four Seasons Resort before joining our team in early 2011.

What he enjoys most about working in the travel business is the opportunity to get to know Costa Rica in depth and the satisfaction that he gets from delighting guests. "Knowing that they are taking a lifetime memory home with them makes me feel really good" he says.

When he's not working, Jonathan's passions keep him in what he calls his "Zen Point"; those passions are soccer and music. These activities give him stamina, comfort and time to be with himself. He also confesses that he?s addicted to pastry.
TESTIMONIALS:
For the Latest Feedback Click Here