Tours of a Lifetime
National Geographic
Top 3, Best Values in the World
Travel & Leisure
Karla Taylor For the Latest Feedback Click Here
Naturalist Guide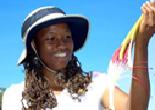 Born in Limon on January 28, 1978, Karla has been guiding for Costa Rica Expeditions for 11 years. Karla was raised in the village of Tortuguero, her mother, Miss Junie Martinez, is one of the founding members of the Tortuguero community and is well loved in the area. She owns the well known hotel and restaurant, Miss Junie.s, in the Tortuguero Village. .She.s my hero. says Karla.

Before guiding, Karla worked for the INBIO, the National Institute for Biodiversity. She is especially grateful for the time spent with the famed scientist, Daniel Janzen, who was her supervisor while collecting specimens for INBIO in the Guanacaste Conservation areas. She is proud of the fact that a new species of nocturnal butterfly in the Geometridae family was named after her,
Nemoria Karlae
.

Karla is particularly interested in medicinal plants, as well as bird watching and identifying insects. While in the field with guests, Karla.s goal is to use what the forest has to offer in that moment to create lifetime memories for her guests. Her future plans include becoming a Master Naturalist Guide.

When not guiding Karla is a full time mother, she has a 12 year old daughter, Abril, a 9 year old daughter, Eva Luna and a 3 year old son, Ian.