Tours of a Lifetime
National Geographic
Top 3, Best Values in the World
Travel & Leisure
Rafael Robles For the Latest Feedback Click Here
Naturalist Guide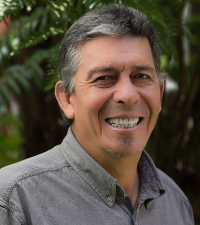 Rafa was born and raised in Costa Rica; his love for nature and outdoor activities began as a child, when he accompanied his father to the far corners of Costa Rica.

His father worked with a government organization which offered incentives to rural communities for developing land. Rafa remembers traveling on the narrow gauge train to Limon and entering the most remote jungles and beaches of Costa Rica by 4x4 jeep or on horseback. Family vacations also contributed to his passion for the outdoors. He tells of camping on deserted beaches for two weeks without ever seeing another group of travelers.

As a young man, Rafa got a full university scholarship from the Mexican government; he has a college degree in Biology from the University of Veracruz. After 8 years of being away from home, he says he came back to re-discover and fall in love with Costa Rica.

Rafa brings an excellent academic background and a wide range of experience in the field of natural history interpretation, education, conservation and sustainable development to his guiding. He has guided groups for the Nature Conservancy and National Geographic.

A botanist by profession, he has written a number of publications including a Manual of the Flora of Costa Rica (a project of the Missouri Botanical Garden and the National Museum of Costa Rica), annotated checklists and interpretive trail guides for lodges and reserves.

In addition to his expertise, an outgoing personality and genuine love of working with people have contributed greatly to Rafa´s long and successful guiding career, which began in 1989.

Rafa and his wife, Claire, who is French-Canadian, have a 19 year old daughter, Andrea, she is in the University studying psychology they also have a son, Fabian, still in middle school. When he's not guiding, Rafa enjoys mountain biking, bird watching and growing avocados and edible mushrooms on his farm.