Tours of a Lifetime
National Geographic
Top 3, Best Values in the World
Travel & Leisure
Gerardo Artavia For the Latest Feedback Click Here
Naturalist Guide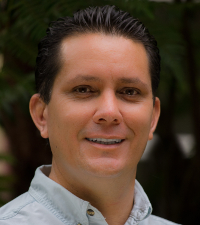 Born in San Jose in on April 19, 1973, Gerardo has a Chilean mother and a Costa Rican father. His father went to Chile to get his Doctorate in Economy and met his mother while he was there. They got married and came back to Costa Rica when he had completed his degree. Gerardo went to Elementary and High School in San Jose at a Catholic school run by priests from Spain; this is where he learned English.
In the late 1990's Gerardo moved to the Central Pacific Coast south of Manuel Antonio National Park. His mission was to help take care of a property owned by his family. This land was originally dedicated to growing rice, corn and other crops. They also raised cattle for beef and dairy. Eventually the farm was turned into a wildlife refuge that is still dedicated to conservation today. It is known as the Portalon Widlife Refuge. Watching the transformation from a working farm to a wildlife refuge allowed Gerardo to begin learning about and interacting with nature in a way that would captivate him.
It was Gerardo's brother that encouraged him to use his knowledge of the outdoors and his people skills and become a guide. Gerardo is especially good leading family groups and loves showing families the wonders of his stomping grounds near Manuel Antonio National Park. He thinks of himself as a generalist, he's curious and interested in all aspects of rainforest ecology. His knowledge of adventure sports makes him especially popular with teenagers.
When he's not guiding one of Costa Rica's national parks or leading an ocean kayaking expedition, Gerardo can be found checking fences at the wildlife refuge, working to get the most out of a few small plots of crops and making sure that his chickens are healthy. In his free time he enjoys spending time with his wife, Wendy.