Onik Morrison For the Latest Feedback Click Here
Naturalist Guide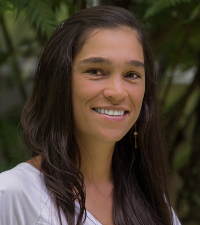 Born in San José on November 21, 1982, her father is from the US and her mother is Costa Rican. Onik has an older brother Ry, an architect and rock climber living in Sweden. Her younger brother, Rony, lives in North Carolina and is studying to become a chef.
Onik's father, Jay Morrison, came through Costa Rica during his travels as a young man. He decided to try his luck starting a wood furniture business which allowed him to pursue his passion as a master carpenter. He was lucky and became very successful building furniture out of many of Costa Rica's fine woods. Her mother is a Civil Engineer and has worked side by side with Jay from the beginning.
Onik's father is a biologist and he took her with him on many of his trips to explore Costa Rica and the world, "after hundreds of expeditions with my Dad, there was no remedy for me." she says.
As a little girl, Onik wanted to be something different every day. No matter what she happened to be aspiring to, she remembers spending a lot of time climbing trees and exploring the outdoors. When the time came to choose a career she decided on biology with an emphasis in environmental interpretation.
What Onik loves about guiding is the combination of roles that a guide has to commit to. "As a guide you are and educator and ambassador and a friend," she says. "When I guide, I strive to enrich those three aspects of the guest experience, this is truly fulfilling for me both personally and professionally."
When not guiding, Onik enjoys exploring new corners of Costa Rica, travelling to other countries, bird watching and making jewelry.