Tours of a Lifetime
National Geographic
Top 3, Best Values in the World
Travel & Leisure
Adriana Montero For the Latest Feedback Click Here
Assistant to the Director of Travel Planning
amonero@costaricaexpeditions.com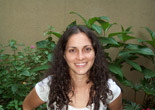 Adriana is Costa Rica Expedition's newest addition to the travel planning team, and comes to us from another agency where she worked her way from bilingual secretary into trip planning. Before entering tourism Adriana put her bilingualism to work in a different Costa Rican industry; the call center. Now here, she is enjoying getting to know the company and her work, and loves what she calls the "relaxed but dedicated" vibe around the office.
As a traveler Adriana loves to visit the beaches of the Caribbean and is entranced by the laid back atmosphere and unique culture, which she finds to be quite distinct from the Pacific side, even gastronomically. Regarding travel philosophy, she says that "personally I believe the key to a good vacation is to not have everything completely planned, leaving always a little space for spontaneity."
As a travel planner she loves helping people explore the Osa Peninsula on the Pacific, and takes great pleasure from introducing them to its unkempt nature. She thinks that because of the difficulty of access it receives far less visitors than other areas, recognizing that most people who visit for a week to eight days don't want to put in the necessary travel time. However, she finds the Osa to be unrivaled for natural beauty, and if you want to make the journey then she wants to direct it. The pull towards the wild stems from her love of nature and birds. Her favorite sighting is a hummingbird, probably because it is one of the few creatures that can match her energy!
A true "Josefina," Adriana Montero was born on February 7, 1986 in the capital city of San Jose, where she grew up and calls home today. She currently lives in the suburb of Santa Ana, with her mother, two of her six siblings and a beloved dog Goofy.