Tours of a Lifetime
National Geographic
Top 3, Best Values in the World
Travel & Leisure
Selena Solis
Senior Travel Planner
ssolis@costaricaexpeditions.com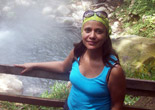 Selena has been working with Costa Rica Expeditions for a very long time: she began in 1989, when she was 20 years old. Having worked in the Operations Department before becoming a travel planner, she learned the nuts and bolts of how we work right from the beginning, and has continually built on her expertise from there.

She has left us a few times over the years, but thankfully it has always been to return. In 1991 she left to care for her (then) young son Rodolfo. She came back a few months later and stayed until 1996. Then she decided to take a break from tourism and dedicate herself to a family business, along with the business of raising a family; her daughter Gloriana was then at age 2. Unable to stay away, she came back to "her second home" in 2001 and specialized in working with upscale travelers and specialized guests for the next five years. Since leaving this last time she has managed a small agency, explored Nicaragua and spent time there managing one of its most upscale destinations: an eco-lodge called Morgan´s Rock. Finally we managed to get her back once more, and we really just can't believe our luck.

Selena grew up just outside San Jose in a town called Moravia. She remembers a place made up of coffee plantations, where she could walk to school. Over the years she watched the cafeteros gradually give way to a more residential community. She started learning English early on in school, and at age 15 received a very memorable birthday gift: the chance to live abroad and participate in a student exchange program in Snohomish, Washington.

These days what she enjoys most is spending time with her family. Rodolfo and Gloriana have grown up and are finding careers of their own. He is a Data Analyst at a Digital Marketing and Advertising company, while simultaneously studying Communication Technologies, and she is a full time student, working on a degree in Environmental Management. Selena also likes to exercise and hike, and has been recently learning to swim, something she says she must learn to do before she dies.

Having lifelong experience working in travel, and having approached it from so many varied angles, has given Selena very firm ideas about what she enjoys within the industry and what it is that makes vacations valuable, and planning them such a joy:

Talented at planning vacations for all kinds of guests, Selena thinks she really excels when planning for upscale clients, families and newlyweds. When asked how she sees Costa Rica Expedition's mission statement: "Legendary Service…Unforgettable Memories," her response is that "Legendary Service" is everybody involved in a vacation going the extra mile to help find and create memories that are unforgettable.

To her what makes Costa Rica a unique vacation destination is the biodiversity and variety in environments; within a week you are able to visit tropical rain forests, cloud forests and beaches, with activities as varied as the different landscapes.

She says that being a travel planner is better than being a doctor because "I have in my hands the most valuable moment for a human being: their vacation time."

Finally, she enjoys working with Costa Rica Expeditions (and always comes back to us) because "it has been (her) school in terms of customer service and professionalism when dealing with guests and planning vacations." Her experience allows her to recognize the importance of a trustworthy support network and efficient co-workers, and she feels the attitude here leads towards everyone pursuing perfection in their various tasks. She also enjoys working with a company that has managed to develop a long standing positive reputation, not only with guests over the years but also within the country of Costa Rica. Finally she says Costa Rica Expeditions is her home, and that when here she is working with family.
Meet Selena and watch her talk about one of her favorite past guests: