Maria del Mar Marin For the Latest Feedback Click Here
Assistant to the Director of Travel Planning
mariadelmar@costaricaexpeditions.com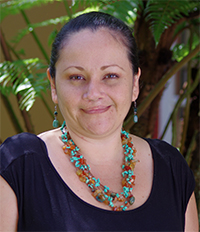 While her lovely name means Maria from the sea, to us in the office she will always be "Mary". Joining Costa Rica Expeditions in 2006, she has been an integral part of our mission in several different ways. She spent a year as an assistant, then a year helping manage reservations, before refocusing on Travel Planning in 2009.
Her favorite part of the job is crafting vacation itineraries, and she's very good at it; having put in the time and the visits to really learn the different hotels we work with. She knows hotels all over the country, from the jungle lodges of the Osa Peninsula to the beach resorts of Guanacaste. Mary enjoys the variety of the different regions. To her fellow travelers she recommends the Arenal area for adventure activities, and the Osa Peninsula for Biodiversity, although she says to be aware of the heat. When she goes on a vacation for her own sake, and not for ours, then it's to the beach for some tranquility.
Mary lives in her home town of Cartago with her parents, a brother and two sisters. Cartago is a city about an hour southeast of our office in San Jose, but Mary's commute has been greatly improved recently with the renovation of an old train route. It cut the commute in half she says, and is a beautiful ride through the mountains besides.
When she is not working she likes to read, and for exercise enjoys watersports: she swims and participates in an aqua-aerobics class during the week. It's with a group of 15 other women, which she says makes it the perfect way to exercise, socialize and unwind, all at once.
Mary says that to her, Costa Rica Expedition's goal of providing "unforgettable memories" means providing a vacation to the right destination for the guest, with the best hotels and tours possible. To her authenticity in a hotel, and a vacation, is really important, and is what people will want to come back for again and again.