carlos gomez
Master Naturalist Guide & Director of Guiding Depa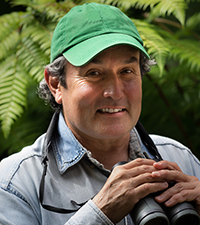 Carlos, or as he is better known, Charlie, started his birding career working with Gary Stiles, the author of Birds of Costa Rica. He has guided birding and other natural history groups for Costa Rica Expeditions for two decades. Before that, he was Station Manager at the Organization for Tropical Studies' La Selva Biological Station. Called "legendary" in the Washington Post, groups he has led include Henderson Birding, Audubon Naturalist Society and Noble Proctor.

"Birding is my number one love – after my family of course. Guiding lets me share my ideas about conservation with other people. Sometimes I think I am a frustrated professor, but my job as a guide is much better than sitting behind a desk, and it's a great way to meet people and share my knowledge with them."

An excellent naturalist and avid birder with a B.S. in biology from the University of Costa Rica, Charlie's tireless enthusiasm on the job has made him our most requested naturalist guide. He is often asked by our clients to guide their trips in other countries. Charlie was born on Dec. 29, 1955. When he's not guiding, Charlie works in his garden, making it a haven for birds, and relaxes with his family. He and his wife, Vicky, have three adult children: Laura, Sergio, and Silvia.