Tours of a Lifetime
National Geographic
Top 3, Best Values in the World
Travel & Leisure
natalie ewing
Chief Marketing and Guest Satisfaction Officer
[email protected]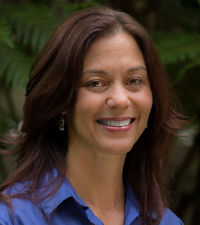 After 13 years as chief operating officer Natalie has stepped back to become Chief Marketing and Guest Satisfaction Officer.

She is in charge of communicating the companies vision of creating unique travel experiences that transcend conventional travel, and then following up to make sure that what we say and what we do coincide. Since she began working at CRE in 1986, Natalie has managed most of the company's departments before becoming COO. This makes her uniquely qualified for her present position.

Born in the United States on Dec. 12, 1966, Natalie moved to Costa Rica when she was four. After elementary and junior high school in Costa Rica, and high school in the United States, Natalie began her advanced degree at Costa Rica Expeditions U in March 1986. Outside of her demanding work schedule, Natalie spends free time with her teenagers, Shamielle and Shawn, hiking, cooking and enjoying friends.