julian fallas
Tortuga Lodge Manager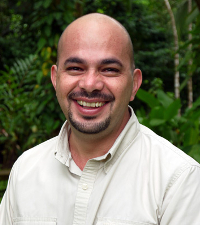 Julian came to CRE in Sept. 2006, after working at the Ministry of Education. Although he had no previous experience in tourism or hotel management, he quickly adapted to the job and the challenges of running a hotel in a remote area. "I was always interested in tourism and jumped at the opportunity to change careers when I saw an ad in the local newspaper for a job opening at Costa Rica Expeditions that didn't require experience," he recounts.

"After more than two years at Tortuga Lodge I still enjoy seeing the look of surprise and happiness our guests have when they arrive at the dock," he says. "It's satisfying knowing that many of our clients' expectations have been exceeded after staying with us and experiencing Tortuguero's rainforests." Julian, one of 11 siblings, was born on May 22, 1970, in San Jose. He has three boys, Julian, 11, Emiliano, 7, and Angel, 2.