Victor Julio Mora
Manager, Monteverde Lodge & Gardens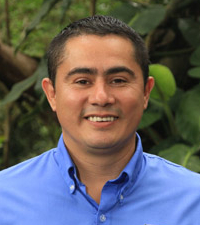 We are delighted to have Victor Julio back as Manager of Monteverde Lodge after a 3 year absence. We have a long history of service with Victor Julio; he started working at the lodge almost 20 years ago.

Born and raised in the town of San Rafael, Victor Julio and his nine brothers and sisters grew up on a coffee farm. Life was defined by coffee it's seasons and the land.

When he first came to work at the lodge his wife Myra was pregnant with their first son and he urgently needed a job. He started helping out in the dining room serving water and busing tables, he also had the responsibility of keeping all of the public areas neat and clean.

Victor Julio worked for over 10 years in the Bar & Restaurant serving drinks, wine and meals often playing his guitar and singing to our guests either for their birthdays or offering a deep voiced serenade of Costa Rican songs around the fireplace.

He then went on to be the Administrative Assistant for two years and when he left 3 years ago; he had been Manager for 2 years. Victor Julio left with the dream of opening a new business, a small restaurant and bar in the community of San Rafael where he lives. He says that the time spent with his wife and sons has been fantastic. He's thoroughly enjoyed teaching the boys to mix drinks, cook and wait tables. Just about the time that he decided it was time to leave the new business to the boys and his wife Mayra, we called him and asked him if he would be interested in coming back. We are delighted that he accepted.

His message to people considering a visit to Monteverde Lodge & Gardens:

"When you visit Monteverde, not only will you experience an extraordinary natural environment, you will experience the service of a very talented team of individuals who will go above and beyond to give you a fantastic vacation"

.