Alberto Martinez
Operations Coordinator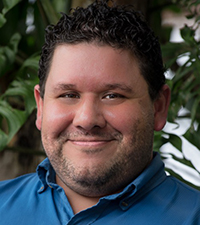 Also known for being your, don't forget your sunblock reminder, alternate transportation finder, lost book tracker, forgot your phone charger solver, let me get the doctor on the phone operator.

Alberto   was born on September 15, 1976 in San José, Costa Rica.  He had the lived in the Dominican Republic for 4 years when he was a child because of his father's job. Later, he spent one year in Finland as an exchange student.

Alberto started his career with Costa Rica Expeditions in 2004, as a Transfer Guide, eventually becoming a Naturalist Guide. When he and his wife Catalina had their first daughter, Olivia, he accepted a position in the Operations Department. They now have their second daughter Victoria which helps her Dad get up very early in the morning, his shift normally begins at 5:30am.

Alberto's experience in the field as a guide has made his work in Operations extremely valuable and precise. His sense of humor keeps things light even when things are hopping.

When he's not helping guests in country, giving Victoria her 4am bottle or finding the right car seat for a family transfer, Alberto loves rock music and being outdoors. He loves baseball and is a diehard Yankees fan.