Guillermo "Memo" Monge
Operations Coordinator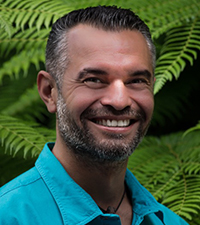 Also known for producing a flying carpet to take you over a landslide OR alternate transportation finder, lost book prescription glasses finder, forgot your iPad finder, let see if I can get you another night at this hotel coordinator.

Guillermo returned to Costa Rica Expeditions in 2017 as Operations Coordinator, he had worked for us in the same position between 2007 and 2009.

Born August 18, 1975 in San José, Memo has 2 sisters and a brother, although he is single, he has 3 nephews which he says are like his own kids.

Guillermo loves outdoor activities, is an experienced mountain biker and hiker, and loves nature photography, especially insects and fungi.

In the past Guillermo has taught outdoor activities and extreme sports.