Diego Valverde
Operations Coordinator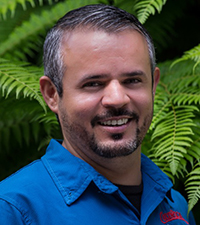 Also known as your guardian angel, troubleshooter, lost jacket tracker, forgot your medicine solver, keeps the ball in motion magician.

Diego is a native of the region of Pérez Zeledón in the south of the country, where he was born 33 years ago. His family eventually moved to the Aserri region, on the southern slope of the Central Valley, where Diego grew up.

He is a fan of sports, especially soccer, where he follows, "the best team in Costa Rica", Saprissa, and of course he is fanatical about Costa Ricas National team.  Diego loves to watch the NBA games, where he admires Lebron James and his team the Cleveland Cavaliers.

In his free time, he enjoys listening to rock music, reading, watching TV, and exploring Costa Rica, finding new places and outdoor activities. Diego also loves to spend time with his 2 children, Victor Andrés and Diego Armando.

Diego had the opportunity to live and work in Pennsylvania for three years, and keeps great memories and friendships of that period.

He has been with Costa Rica Expeditions since 2010, he started working in the Procurement Department and then he moved to the Operations Department, where he can speak with guests every day.