Karla Quirós
Travel Planning Assistant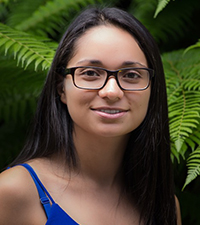 Karla was born on November 19, 1991 in the city of Cartago. Karla's father is an accountant and her mother a teacher.  Karla, has two brothers, the oldest is a pharmacist and the younger one studies art.   Everyone in her family studied at the University of Costa Rica.

When she was a little girl, Karla wanted to be, either a veterinarian or a secretary. She remembers always playing, secretary, with her cousin Graciela. She studied in a technical school in Cartago, where she graduated as Executive Secretary.  Karla continued her studies in the University of Costa Rica, where she obtained a baccalaureate in Ecotourism (another of her passions, Nature) and a Master's in Business Administration.

Karla joined Costa Rica Expeditions in 2015, while she was studying to get her MBA. She started in the Operations Department, months later, she was offered a position as an Assistant in the Travel Planning Department.

When she is not at work, she loves to play with her dog Toby, "a hair ball", as she calls him. Karla also enjoys reading books, traveling, practicing yoga and tennis, but most of all, she loves to be with her family and friends.