Tours of a Lifetime
National Geographic
Top 3, Best Values in the World
Travel & Leisure
yolanda kaye
President Board of Directors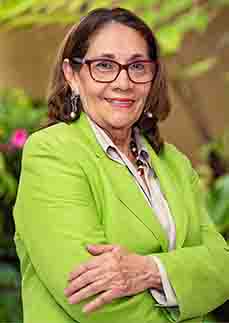 Yolanda Kaye, born in 1951, in rural El Salvador, is the woman wise enough to be Michael's wife and survive. Really she has done more than survive; she is thriving. Doña Yoly as we all affectionately call her, is truly the great woman who is not only behind a great man but also behind a great organization. Her wise words, observations and willingness to listen to gardeners, cooks, account executives and executive team staff alike has provided many of us with a sound "put your feet on the ground and count your blessings" perspective. She is a world-class cook.

One of Michael's and Yolanda's adventures was "Bike New York." They peddled a tandem bicycle 42 miles through the five boros of New York City. "I haven't seen a bicycle built for two in years," an old gentleman remarked. "Is it an antique? "

"The bicycle is new," Doña Yoly replied in her accented English. "We're antiques."