Yorleny Jimenez
Senior Travel Planner
[email protected]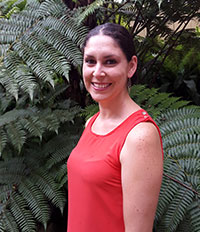 Born on May 5, 1985, in the rural community of San Carlos, Yorleny grew up on her parent's dairy farm with her two brothers and sister. She remembers coming home from school and sitting at the table with her siblings where they would do their homework as fast as they could. The reason was that they wanted to go "help" their dad with the dairy cows. "What we really wanted was fresh milk" she laughs.
They spent their afternoons playing in pastures, herding or milking cows and climbing guayaba trees, they mostly ate the guayaba's, but they were also used as grenades!
Yorleny thinks that those early days on the farm is what made her gravitate towards a career that would allow her to work doing something related to the environment.
She first got a degree in Agricultural Tourism from the ECAG (School of Agriculture and Animal Husbandry), she found that what she enjoyed the most from that experience was the customer service side and the opportunity to interact with guests. As a result, she transitioned into guiding and took the courses that she needed to complement her natural history knowledge to lead trips as a Naturalist Guide. She guided throughout Costa Rica and Central America for 6 years.
Yorleny began working for us in December of 2014, as a Naturalist Guide turned Travel Planner, she is putting all of her experience in the field into designing itineraries that are delighting guests.
When she's not pouring over a map designing a dream vacation, Yorleny's idea of a perfect day is to take her four dogs for a long walk or run in the morning and then spend the rest of the day with her niece, Alana, which she is crazy about. When her boyfriend, Alex, a Naturalist Guide is home, they like to play with the dogs or spend the weekend at the beach.