Cindy Olivares Rodriguez
Assitant Manager, Monteverde Lodge & Gardens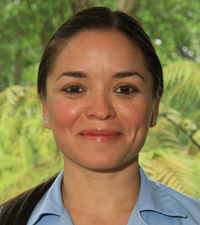 Cindy was born and raised in Monteverde, she graduated from the Santa Elena High School and is now taking general courses at the UNED (National University at a Distance)

She has only worked for Monteverde Lodge & Gardens for a short time; and says that what has impressed her most is the level of service that is offered to guests. Her experience living and working in Monteverde has come in very handy and she is happy when she is able to give clients advice about how to wisely spend their time here.

Cindy is especially fond of the children that stay at the lodge and remembers one little girl that accompanied her in the reception for an entire morning. "She will be a great receptionist someday".

When she's not at the lodge Cindy loves to bake and her co-workers think she makes delicious brownies. She also enjoys spending time with her mother and her brothers and sister and she reads books on how to be a better person.

Her message to people considering a visit to Monteverde Lodge & Gardens: .