Marcelo Barrantes
Lodge Reservations Supervisor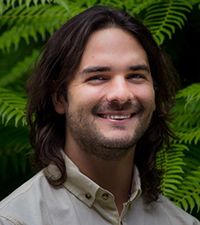 Marcelo joined the Costa Rica Expeditions family in 2017. He currently serves as Supervisor of the Reservations Department of Costa Rica Expeditions Hotels, Tortuga and Monteverde Lodge & Gardens.

Marcelo was born on February 12, 1988, in the province of Heredia, being the youngest of 4 brothers. His father worked as auditor of the Bank of Costa Rica where he retired in 2002. Her mother has always been a housewife, who taught her 4 sons to do all the housework, cooking, washing, cleaning, so that they could apply them in her future life.

Marcelo is an excellent cook, something that must bring in the blood, since his brother, Federico Barrantes, is our Executive Chef for the lodges.

From a very young age, Marcelo has practiced skateboarding and surfing. He acquired his first surfboard when he was 16 and continues practicing it whenever he can. His dream has always been to have a small beach hotel and live near the sea to surf. This led him to study Hotel and Restaurant Administration.

When he's not at work, Marcelo enjoys traveling in Costa Rica and around the world with his fiancée Melissa. When travelling, they love to meet new people, and try traditional foods.